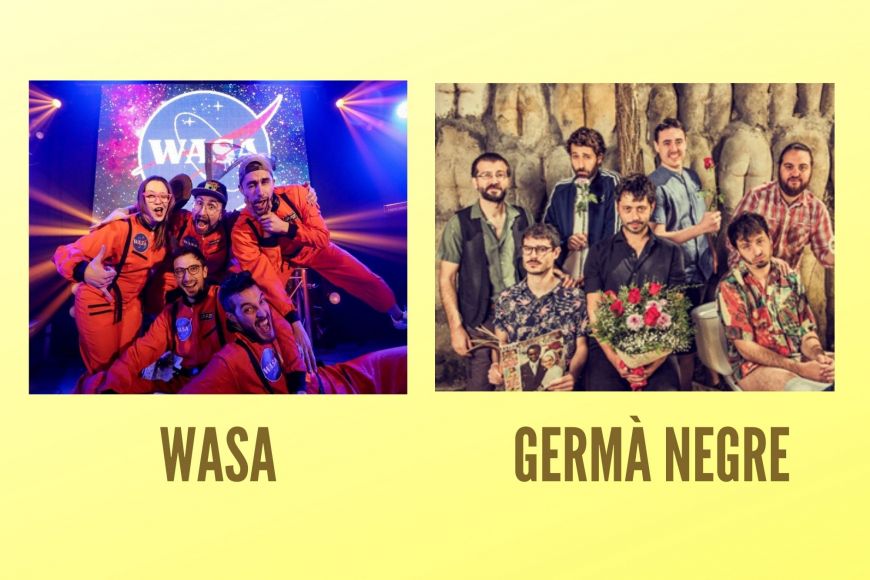 Concert with Wasa and Germà Negre
Wasa and Germà Negre will be at the Sant Genís festival
The music groups Wasa and Germà Negre will perform one of the most outstanding concerts of the Sant Genís festival programme. These singers clearly represent the essence of the traditional festivities, with their adaptations of popular songs that ensure fun at all events.
The concert will be held on 24 August 2021 at ten o'clock in the evening at the Espai Concerts de Barracas, in Torroella de Montgrí. We remind you that since August 10th you can buy your ticket through the website of the Agenda of activities of Torroella de Montgrí and Estartit. Please note that once you have purchased your ticket you must print it or download it to your mobile phone in order to access the event. The ticket price is only 3 €. In the following link you can access directly, don't miss yours!
It is important to note that the space will be fully adapted to the current covid-19 prevention measures. For this reason, spectators will be distributed in different bubble groups, with a maximum of 4 people at each table. In addition, it will be compulsory to wear a mask, hydroalcoholic gel and, above all, to keep a safe distance from other attendees.
A concert full of joy that is sure to bring smiles to everyone's faces. The catchy choruses of their songs will make the audience sing along and enjoy themselves like never before. In short, they will be playing family, youth and children's music, with dances and a spectacular staging that cannot be missed.
Will we see you?
Live they are a real party!!!
Sa Gavina Apartments
Remember that you can stay in our Sa Gavina Apartments during these days. In some of them we have the last minute rate with check-in in the morning and check-out in the afternoon so that you can make the most of your days in l'Estartit.
If you still don't have your reservation for this summer, click on the following link
---
Photography: https://www.agendatorroella.com/ca/programacio/c/4826-concert-de-barraques-amb-wasa-i-germa-negre.html#lg=1&slide=0