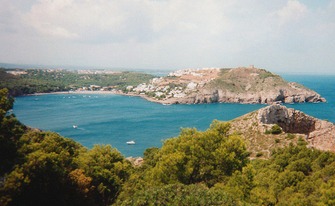 Discover the best beaches and coves of l'Estartit – July 2019
In l'Estartit we have more than 9km of rocky coastline that hides beautiful coves with crystalline waters, among which stand out:
-Cala Montgó: It is one of the largest coves to be found on the Costa Brava. It is easily accessible by car. With crystal clear waters, it is a cove worth visiting.
-Cala Ferriol: It is a cove of wild beauty, to which you have to walk more than an hour. However, when you arrive it is worth the excursion.
You will also find 5km of fine and shallow sandy beaches, among which stand out:
-Playa Grande de L'Estartit: As its name indicates it is the main beach of l'Estartit. It is divided into three beaches: the main or central beach, the beach of Griells and the beach of Pletera. It has all the services and is located in front of the residential nucleus of the town, where most of the bathers are concentrated.
If you have not yet booked your summer holidays in one of our apartments, you can do so by clicking on the following link and enjoy the beaches and coves offered by the municipality of l'Estartit: https://bit.ly/2XpQ7xd
For more information about beaches and coves of l'Estartit consult the following link: https://bit.ly/326ZZj4