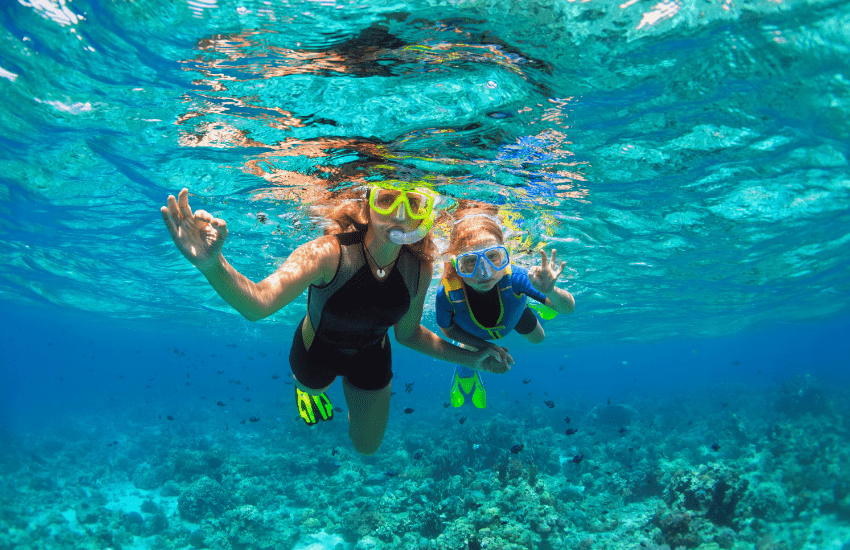 Discover the best snorkeling spots in Estartit:
Estartit, located on the Costa Brava in Spain, is a perfect destination for snorkeling enthusiasts. Its crystal-clear waters, abundant marine life, and stunning underwater landscape make it a paradise for underwater exploration. Below, we present some of the best snorkeling spots in Estartit to visit during your stay at the Sa Gavina Gaudí Apartments.
Highlighted Locations in Estartit
Medes Islands off the coast of Estartit
The Medes Islands are a small archipelago located off the coast of Estartit. This place is considered one of the best diving and snorkeling destinations in the entire Mediterranean due to the richness of its marine life and the quality of its waters. As you dive into the Medes Islands, you will be surrounded by colorful fish, octopuses, starfish, and a variety of marine flora. Additionally, the clarity of the water will allow you to enjoy exceptional visibility.
Cala Montgó – South of Estartit
Cala Montgó is a beautiful cove with calm waters located south of Estartit. Its seabeds are perfect for snorkeling, especially in the rocky area surrounding the cove. Here you will find caves and underwater cracks that host a great diversity of marine species. It is common to encounter schools of bright fish and curious octopuses while exploring the waters of Cala Montgó.
Cala Pedrosa – North of Estartit
Cala Pedrosa, located north of Estartit, is another outstanding area for snorkeling. This small cove is known for its crystal-clear waters and spectacular underwater landscape. The abundance of seagrass meadows, an endemic aquatic plant of the Mediterranean, attracts numerous marine species. By diving into Cala Pedrosa, you will be able to observe a wide variety of fish, crabs, and starfish as you explore the impressive seabeds.
Playa de la Pletera
Playa de la Pletera, one of the longest beaches in Estartit, also offers exceptional snorkeling opportunities. Its shallow and calm waters are ideal for beginners and children. As you venture into the water, you will discover a multitude of fish swimming among the seaweed. Additionally, Playa de la Pletera features a diversity of underwater habitats, such as rocks and seagrass meadows, enriching the snorkeling experience.
Cala Calella
Cala Calella is a small cove hidden in a rocky area near Estartit. Although its access may be a bit more challenging, it is worth visiting for its stunning underwater beauty. The clear waters of Cala Calella are home to a wide variety of fish and marine algae. Additionally, the presence of rock formations creates interesting caves and cracks to explore. Caution should be exercised when entering the water and attention should be paid to currents, as this cove does not have lifeguard service.
Each of these locations offers a unique and fascinating experience, allowing visitors to discover the beauty of the underwater world of the Costa Brava. Snorkeling should always be practiced responsibly, respecting the marine environment, and following safety regulations. Dive into Estartit and enjoy an unforgettable snorkeling adventure during your stay at the Sa Gavina Gaudí Apartments!