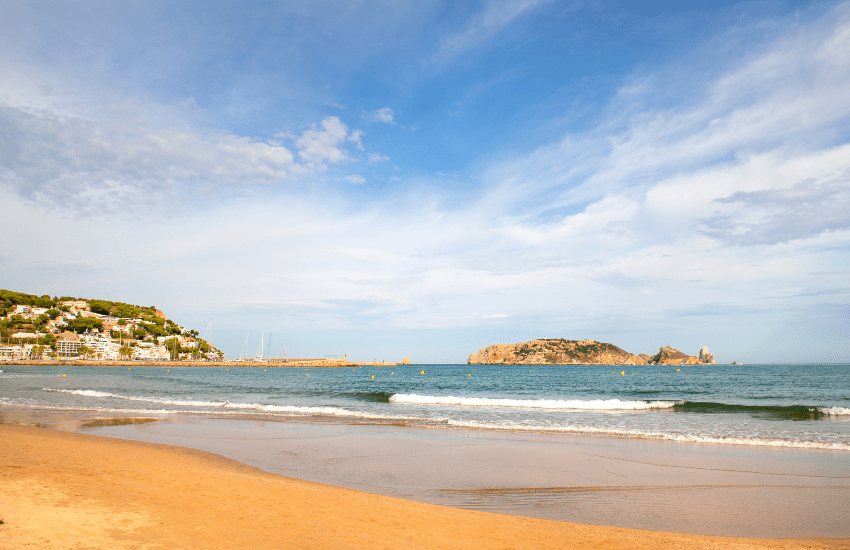 Enjoy the best beaches in Estartit.
Estartit offers a great variety of landscapes and rich biodiversity. During your stay at Sa Gavina Gaudí Apartments, we invite you to enjoy the best beaches in the region.
Highlighted Estartit Beaches
Platja Gran
Platja Gran, as its name suggests, is a vast beach that stretches along the coast of Estartit. With approximately 2 kilometers in length, this beach offers ample space for visitors to enjoy a sunny day by the sea. It also provides services such as showers, sunbed rentals, and accessibility for people with reduced mobility.
Platja de Griells
If you're looking for a more tranquil and relaxed atmosphere, Platja de Griells is the ideal choice. Located to the south of Estartit, this smaller and less crowded beach offers a serene setting to enjoy the sea and sand. Its shallow waters and gentle slope make it perfect for families with young children. Additionally, it is surrounded by beautiful natural landscapes and boasts a wide range of restaurants and bars where you can enjoy delicious meals by the sea.
Platja de la Pletera
For those seeking a closer-to-nature experience, don't miss Platja de la Pletera. Situated in the heart of the Montgrí Natural Park, it is surrounded by dunes and vegetation. Being an untouched beach, it offers an intact natural environment where you can enjoy peace and tranquility. It is perfect for those who want to disconnect and immerse themselves in the wild beauty of the region. Moreover, it is an ideal spot for hiking and discovering the diversity of flora and fauna that surrounds it.
Calas in the Montgrí Natural Park
In addition to the main beaches, Estartit is also home to some stunning coves within the Montgrí Natural Park. Cala Calella, Cala Pedrosa, and Cala Ferriol are true hidden gems awaiting you in this protected natural environment. These small coves, surrounded by cliffs and lush vegetation, offer an intimate and exclusive ambiance for those looking to escape the crowds. Their crystal-clear waters are ideal for snorkeling and diving, allowing you to discover the marine life that inhabits them.
History of Estartit's Beaches
During the Middle Ages, Estartit served as an important strategic point due to its proximity to the Montgrí Castle. The beaches acted as a starting point for naval expeditions and coastal defense. Throughout the years, these beaches have witnessed maritime trade, battles, and the city's evolution.
History is also reflected in the underwater depths of Estartit. The coast of Estartit is known for its abundance of underwater archaeological remains, particularly in the area of the Montgrí Natural Park. Divers and underwater history enthusiasts can explore shipwrecks and remnants of ancient civilizations lying at the bottom of the sea.
During your stay at Sa Gavina Gaudí Apartments in Estartit, you will have the opportunity to enjoy stunning beaches with a rich history and natural beauty. From the expansive Platja Gran to the tranquil coves of the Montgrí Natural Park, each beach will offer you a unique experience.