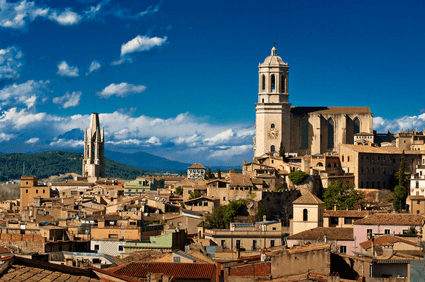 The Sa Gavina Gaudi and Sa Gavina Medes apartments , are located 40kilometros from the beautiful city of Girona and 30 minute drive.
Girona city is the capital of the province of Girona on the Costa Brava. It is a small town with a huge artistic and cultural heritage that has all the advantages of city without losing its provincial charm.
Take advantage of any day of your vacation to visit Girona, which highlights the following points of cultural and leisure activities:
Casco Antiguo (Old Quarter) which concentrates the artistic heritage of the city such as the Cathedral of Santa Maria (XI-XIII century), the Wall, the Archaeological Walk, Arab baths and numerous civilian buildings. In this area you will find many small restaurants and shops and exclusive traditional boutiques .
The Juderia (The Jewish Quarter), this is one of the best preserved medieval villages in Europe highlighting the ancient synagogue converted today in the Museum of the History of the Jews.
Houses and bridges over the river Onyar, Girona is divided by the river Onyar, and both sides, Old Town on the right bank Mercadal Quarter on the Left Bank, are linked by numerous bridges. The colorful houses on the river Onyar are spectacular and one of the most typical postcards of the city.
The Independence Square, is a busy, lively square , full of typical tapas bars, restaurants and traditional businesses. The square is surrounded by neoclassical buildings, is located on the left bank in the District of Mercadal, currently considered the center of the city of Girona.
Museums: The city has numerous museums which include:
Museum of City History, located in the Old Town in a eighteenth century Capuchin monastery with an important collection of historical artifacts, archaeological finds and illustrations.
Archaeological Museum of Catalonia, located in the Convent of San Pedro de Galligants (construction started in 1130) and the Art Museum located next to the Cathedral of Girona.
Cinema Museum, opened in 1998, created from private donations Catalan filmmaker Tomas Mallol i Deulofeu, with film material and an extensive collection of posters and movie posters.
Shops, the city offers an important commercial center on the outskirts, in Salt, called Espai Girones. Furthermore, in the District of Mercadal you will find many shops and small traditional shops in the Old Town.