Discover with different eyes how this wonderful fishing village used to be before the arrival of tourism
L'Estartit is a natural paradise, where we find a rich natural and historical heritage. From the Sa Gavina Apartments we suggest you to get to know the history beyond the spectacular landscapes, the coves of crystal clear water and the wonderful views that can be found in this fishing village.
From 14th July to 25th August, from 7 p.m. the Museum of the Mediterranean, in collaboration with the Department of Culture of the Generalitat de Catalunya and the Diputació de Girona, organises guided tours to learn more about Estartit.
A unique moment to visit and learn about its origins as a fishing village, discover how the first buildings were built, understand how people lived years ago and, in short, get an idea of how Estartit was before the arrival of tourism.
The meeting point for these tours will be at the Estartit Tourist Office. Remember that, if you want to participate, you must register in advance, as there are a limited number of places available. Registrations can be made by sending an email to museu@torroella-estartit.cat or by calling 972755180. The price of the activity is only 4 €.
For more information you can go to the following link
Sa Gavina Apartments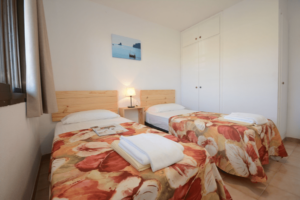 Our apartments are less than 15 minutes walking from the meeting point of this activity, so staying at Apartamentos Sa Gavina is the best option, as they are located in a central location.
Besides, if you are one of those who are always looking for the sea breeze… we have good news! Whether you stay at the Apartamentos Sa Gavina Gaudí (400 m) or at the Apartamentos Sa Gavina Medes (200 m), you will be just a few minutes walk from the beach of L'Estartit.
Don't think twice and come and disconnect for a few days in L'Estartit!
You can make your reservation by clicking on the following link
If you have any questions before making a reservation, do not hesitate to contact us.
We are waiting for you!
---
Photography Estartit: https://platgetaestartit.files.wordpress.com/2015/01/estartit-antic1.jpg