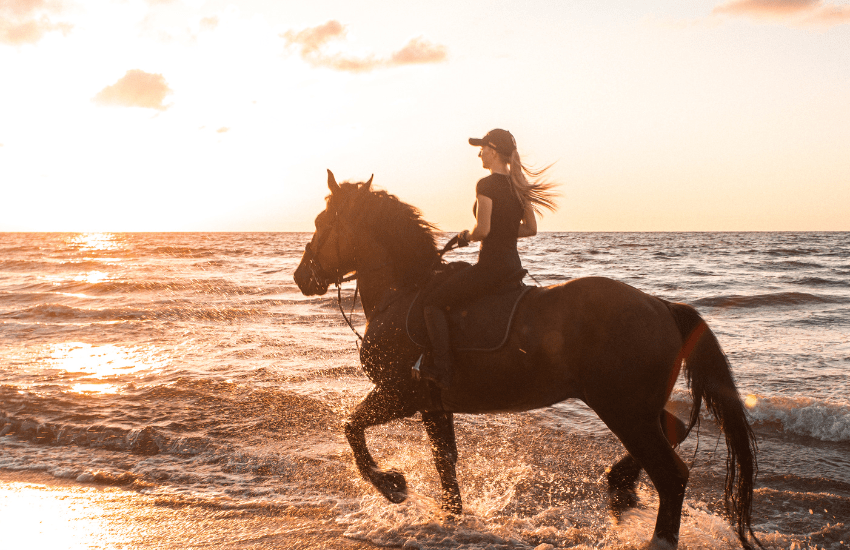 Ride on the seashore in Estartit.
If you're a horse and nature enthusiast, during your September stay at Sa Gavina Gaudí Apartments in Estartit, we recommend you to enjoy horseback riding in a unique setting.
The Best Areas for Horseback Riding in Estartit
Montgrí Natural Park
This stunning natural park offers an idyllic setting for your horseback ride. Suitable for all audiences, regardless of your level and experience in horse riding, you can explore the various trails, forests, and coastal landscapes of Montgrí Natural Park. You'll enjoy panoramic views of the Mediterranean Sea and immerse yourself in the natural beauty of the region.
Beachside Routes in Estartit
Ride along the extensive beaches of Estartit. In the region, you will find various companies with permits that offer this experience. Enjoy the Mediterranean on horseback with excellent views of the Medes Islands.
Countryside Trails
If you prefer a quieter environment, countryside trails allow you to explore the Catalan countryside. Rural landscapes, vineyards, and green fields are ideal for horseback riding and enjoying the serenity of the surroundings.
Tips for Horseback Riding in Estartit
Book in Advance
It's always advisable to make reservations in advance to be able to choose the best time slots.
Equipment and Attire
Use the appropriate riding gear, such as a helmet and boots.
Experience Level
Inform the equestrian center about your level of riding experience. This will help them select the suitable horse for you and design the most appropriate route.
Enjoy the Surroundings
The equestrian center in Estartit provides you with the opportunity to connect with nature. Enjoy the landscape and observe the local flora and fauna while riding.
Horseback riding in Estartit is a unique experience that allows you to explore the natural beauty of the Costa Brava from a different perspective. We look forward to welcoming you at the Sa Gavina Gaudí Apartments.