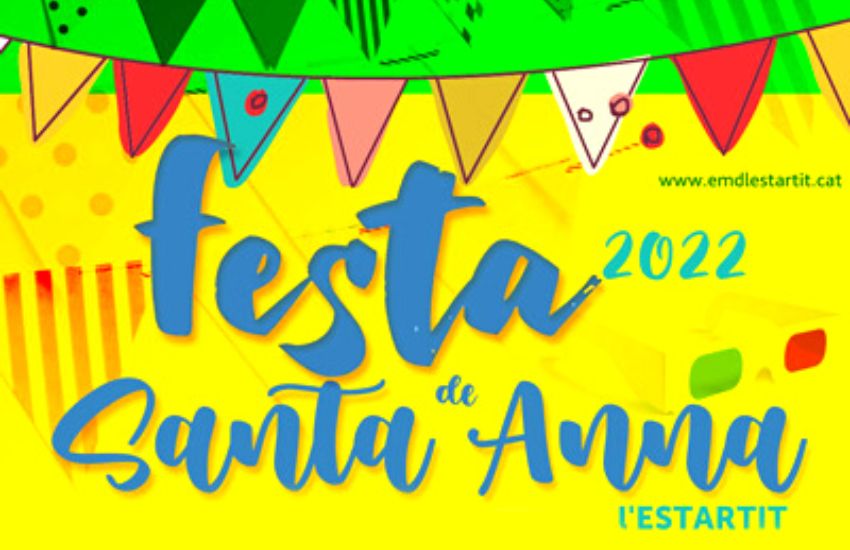 Santa Anna Local Festival 2022
From the 22nd to the 30th of July the Santa Anna Local Festival 2022 will take place
The Santa Anna Local Festival 2022 is already here! And it comes loaded with activities for all ages and publics. From 22nd to 30th July l'Estartit will be surrounded by a festive atmosphere, joy, concerts, music and above all lots of fun!
The Entitat Municipal Descentralitzada de l'Estartit has been the organiser of this festival, with a programme of different events designed for families and children, as well as for young people and adults.
Discover the full programme in this article and don't miss anything. Read on!
Programme of the Santa Anna Festival 2022
From 20 to 24 July
Jazz Festival l'Estartit
Place: Molinet
From 22nd to 26th July
Fireta de Santa Anna
Place: Plaça de la Llevantina
Tuesday 26th July
Solemn mass accompanied by the Coral de Veus de l'Estartit choir
Time: 11:00 h
Place: Church of Santa Anna
Sardanes with Cobla Foment del Montgrí
Time: 20:00 h
Place: Plaça de l'Església
Festa Fluor Party Flaix FM
Time: 20:00 h
Place: Skatepark Zone
Friday 29th July
Musical Capvespre. Concert with Néova
Time: 20:00 h
Place: Plaça de la Llevantina
Saturday 30th July
Estartit's gegantera Trobada (Gégantera Trobada)
Time: 18:30 h
Place: Carrer Coral
43rd Cantada d'Havaneres of Penya Barcelonista Montgrí i Comarca
Time: 22:00 h
Place: Plaça de la Llevantina
For more information you can access the following link.
Sa Gavina Apartments
If you want to enjoy this festival with your group of friends, don't think twice and book your stay in our apartments for these days.
At Sa Gavina Apartments we offer: accommodation with free WIFI service, air conditioning, balcony or terrace, sheets and towels included, lift in each building, outdoor swimming pool with Roman stairs, etc.
What are you waiting for? You can make your reservation through the following link.
We are waiting for you!
---
Photography: www.agendatorroella.com