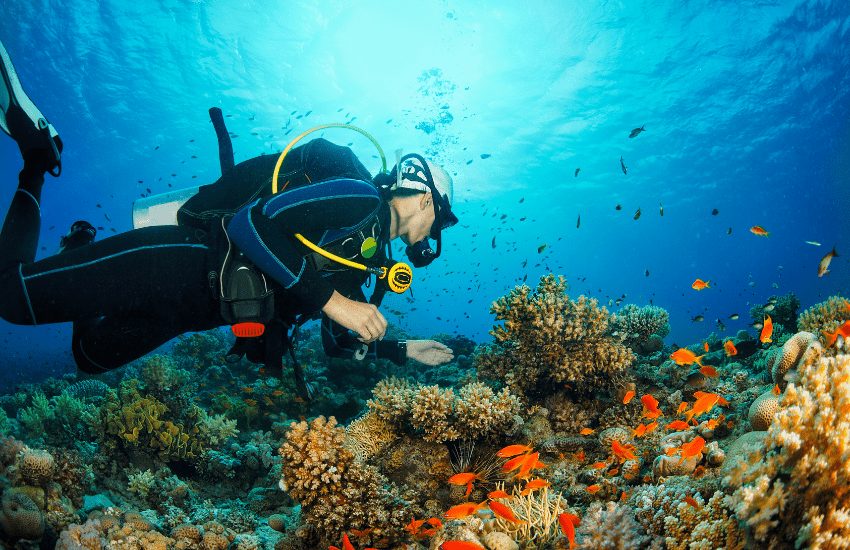 The best diving spots in Estartit
If you're passionate about the sea, take advantage of your stay at Sa Gavina Gaudí Apartments in Estartit to have a unique diving experience on the Costa Brava. We present you the best diving locations in the region. You will explore beautiful underwater landscapes with rich biodiversity. Get ready for a memorable experience!
Highlighted Diving Locations in Estartit
The Medes Islands
One of the top diving destinations in Estartit is the Medes Islands. This archipelago, located just 1 kilometer off the coast, is home to abundant marine fauna and flora. The crystal-clear waters and impressive visibility make the Medes Islands a perfect place for diving. You will explore stunning coral formations, underwater caves, and encounter a variety of marine species, from colorful fish to octopuses and moray eels.
The Montgrí Natural Reserve
Another standout diving spot in Estartit is the Montgrí Natural Reserve. This protected area hosts a great biodiversity and offers you a unique underwater experience. You will explore underwater cliffs, seagrass meadows, and impressive caves. Moreover, you will have the opportunity to encounter vibrant-colored fish, groupers, nudibranchs, and even dolphins and sea turtles.
El Bajo de la Vaca
El Bajo de la Vaca is another must-visit diving site during your stay in Estartit. This place is known for its spectacular rock formations and reefs, providing an ideal habitat for a wide variety of marine species. Here you will find large schools of barracudas, lobsters, congers, and hermit crabs. Additionally, El Bajo de la Vaca is famous for its impressive vertical walls covered in gorgonians and sea sponges.
After an exciting day of diving, relax in the cozy Sa Gavina Gaudí Apartments in Estartit. Located just minutes away from the beach, our facilities are the perfect place to rest and recharge. Enjoy their comfort, our swimming pool, and a peaceful environment that will allow you to relax after your underwater adventures.
Estartit is an exceptional destination for diving enthusiasts. The Medes Islands, the Montgrí Natural Reserve, and El Bajo de la Vaca are just some of the places that await you to discover the richness of underwater life.
Come to Estartit and experience an unforgettable diving adventure!