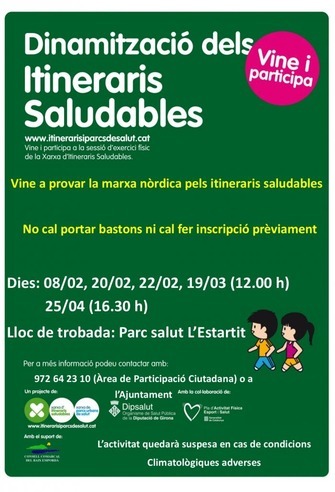 The town hall promotes the dynamization of healthy itineraries through the practice of the nordic march (departures on 19/3 and 25/4) in the parc salut del Estartit
The Town Hall of  l'Estartit, along with Dipsalut – Agency for Public Health of the Provincial Council of Girona,  have incorporated the practice of Nordic walking into the  free dynamic activities organized by the Network of Healthy Itineraries of the Girona region.
Nordic walking is a technical alternative to traditional walking, it allows you to activate up to 90% of your muscles. Anyone is suitable for the practice of Nordic walking as this discipline does not require a great physical preparation and is characterized as a low-impact activity that does not harm the joints.
Coinciding with the start of the season of our apartments in Estartit, on March 19, at 12 pm there is a programmed convening in the Parc Salut Estartit. No need to bring walking sticks or make prior registration.
For more information, please contact the Department of Citizenship of the City of Estartit to the phone 972.64.23.10
There is another convening scheduled for April 25 at 16.30h.