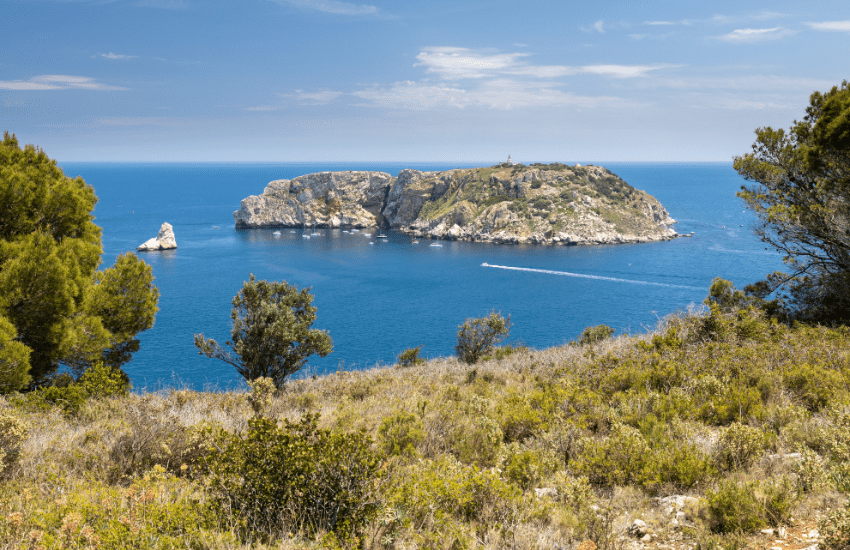 This summer, enjoy Estartit on two wheels.
Estartit enjoys unique coastal landscapes on the Costa Brava, with paths where you will find many natural and cultural attractions to discover. During your stay at Sa Gavina Gaudí Apartments, you can explore bike paths and routes suitable for all ages and choose according to difficulty.
Routes for your visit to Estartit
Parque del Montgrí
The Montgrí Natural Park offers an impressive setting for a bike ride. You can start your route from Estartit and head north, where you will find trails winding through hills and forests. As you progress, you will enjoy splendid panoramic views of the Mediterranean Sea and the imposing Montgrí massif. The park is also home to a wide variety of flora and fauna, making it perfect for nature lovers.
Camino de Ronda in Estartit
The Camino de Ronda is a coastal route that stretches along the Costa Brava and offers spectacular views of the sea. From Estartit, you can follow the path southward and discover hidden coves and beaches, impressive cliffs, and charming fishing villages. This route is ideal for those looking to combine cycling with moments of relaxation on the beach and stops to taste fresh seafood dishes at local restaurants.
La Ruta del Ter
If you prefer to explore inland routes, we recommend the Ruta del Ter. It will take you through picturesque rural landscapes and charming medieval villages. This route follows the Ter River and allows you to discover places like Verges, where you can admire the famous "Gegants" (giants) in a procession during Holy Week, and villages like Ullastret, known for its impressive archaeological site.
Tips for your journey in Estartit
Equipment and safety
Don't forget to bring a helmet, appropriate clothing, sunscreen, and water.
Explore in a group or with a guide
If you are new to the area or prefer to explore in company, we recommend joining a group of cyclists or hiring the services of a local guide. This way, you can discover and visit the best locations in the region while also getting interesting information about its history and culture.
Estartit is an ideal destination for cycling enthusiasts, with a wide range of routes to explore and stunning landscapes to enjoy. Start planning your vacation and the routes you want to take during your stay at Sa Gavina Gaudí Apartments. We look forward to welcoming you!