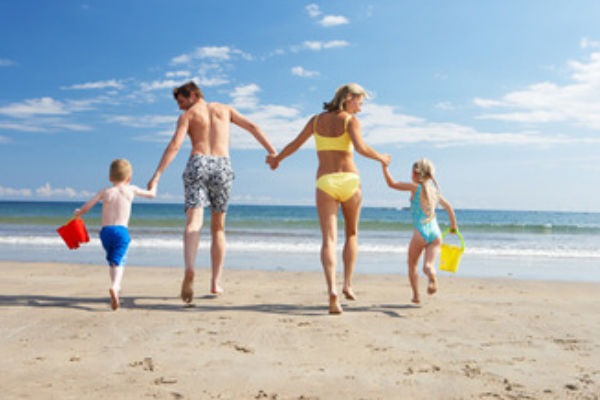 To the beach with the family
In 2008 Estartit won the prestigious certificate, "Family Holiday Destination", which recognizes the Catalan tourist areas with a wide range of accommodations, such as the Sa Gavina Medes and Sa Gavina Gaudi apartments, adapted to the needs of families with wide range of leisure activities and entertainment.
The long sandy beach of Estartit is located just meters from our apartments Sa Gavina Medes and Sa Gavina Gaudi and is awarded with the European Blue Flag for its facilities and services.
The beach of Estartit covers an area of 5 km and is ideal for families on holiday on the Costa Brava, for its shallow depth, the wide range of activities offered to visitors, and the public services available.
Leaving the Sa Gavina Medes and Sa Gavina Gaudi apartments, the beach is reached in less than a 5 minute walk. It is also possible to go by car, as it is allowed to park in designated areas of the beach. The beach provides services such as showers, toilets and a life-guard on duty.
You may also rent sun loungers and umbrellas, small bars, ski hire, windsurfing, surfing, kayaking and sailing are also available.
Swimming areas and sporting activities are limited with buoys, for the tranquility of families with children.
The expanse of the beach of Estartit, allows long walks from any point, to the mouth of the River Ter (La Gola del Ter), crossing the Pletera area, where the beach is less crowded and where dogs allowed.
There are few towns on the Costa Brava that allow access to the beach with pets, such as dogs. Estartit is allowing this possibility, in some areas, the families living in Sa Gavina Medes and Sa Gavina Gaudi, can enjoy a day at the beach with their pets.