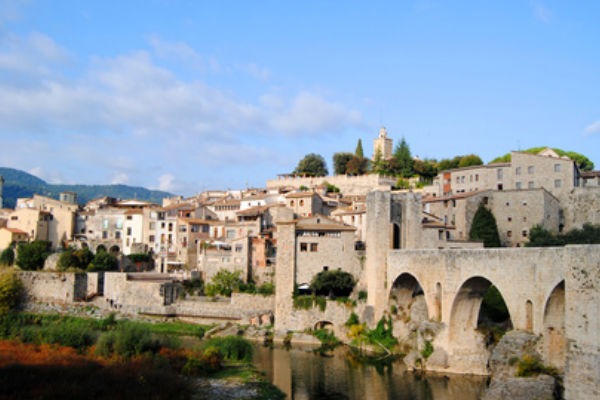 Visit to Banyoles lake and Besalú
The lake of Banyoles is in the region of Pla de l'Estany.
The lake of Banyoles is situated 50 km from the Sa Gavina Medes and Sa Gavina Gaudi apartments, covering an area of ​​110 square kilometers, it is the largest natural lake in Catalonia and in 1992 was declared an Area of National Interest.
There are many birds, especially ducks, as well as amphibians, repiles and fish that live in the area of ​​lake, also surrrouding the lake the varied partially or fully submerged plant life.
The family activities that are available in or around the lake, are tourist boat rides, walks around the perimeter of the lake, approximately 6.5 kilometers, as well as fishing (no death), rowing, canoeing, swimming etc…
Another family activity is the tourist train whose journey through the southern area of the lake to the Romanesque church of Santa Maria de Porqueres, takes approximately 50 minutes.
Besalu is a small village, 20 kilometers from Banyoles highly visited by families for its medieval architecture.
It is considered one of best preserved medieval towns in Catalonia with the Monastery of Sant Pere and the Jewish Quarter, with the impressive enclosure of Jewish baths. Another interesting visit, is to see the the Roman bridge which still exsists over the river Fluvia.