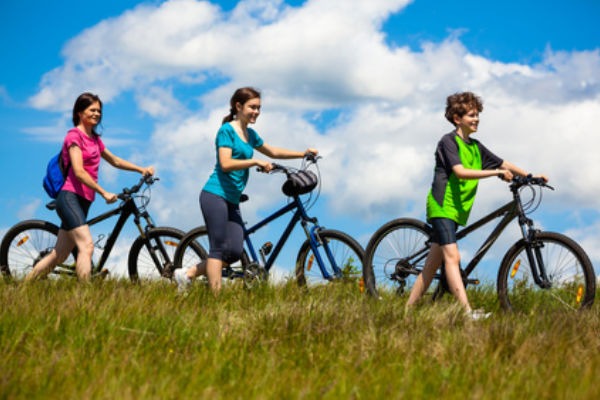 Visit to nature areas for the whole family
The town of Estartit on the Costa Brava is located in the "Nature Park", composed of the Medes Islands, the Montgri Coast and Lower Ter.
For bike lovers, Estartit has a wide expanse called Lower Ter, located between the river Ter and the town center, with many paths through the farmland in the area. The area is flat, ideal for quiet walks in the evening with the family, after a day at the beach. There are many routes such as ones that follows the banks of the river Ter. Our apartments Sa Gavina and Festa Platja, have designated areas for storing bicycles for the entire family free of charge *.
On leaving Sa Gavina  Gaudi and Sa Gavina Medes Apartments, we head towards the port of Estartit along the promenade, where you can choose between different cruises to visit the Medes Islands, the rugged coast of Montgri and visit other towns on the Costa Brava, such as Cadaqués. Excursions are aimed at a family audience where children and parents can enjoy from the boats, the diversity of the seabed, beautiful views of the coast or a refreshing swim in the Medes Islands or Montgri Coast.
Another fun excursion is to access the Coves of the Montgri Coast. From the Sa Gavina Apartments, you can visit the " Big Mountain" by car or foot ( depending on the time of the year) and descend to the various coves. Estartit has coves like "Cala Calella, Pedrosa and Ferroil, which can be acessed by foot, following the signposts. The coves are ideal for  practising snorkeling due to  their irregular depth, and for enjoying the typical Mediterreaen views.
There is also the possibility to participate in these excursions, by foot or bike, with a specialist guide, these are organised by Estartit's Tourist Information office.
* Limited spaces ( its possible to reserve before your arrival.)
View the video "Nature Park of Montgri, Medes Islands and river Ter"