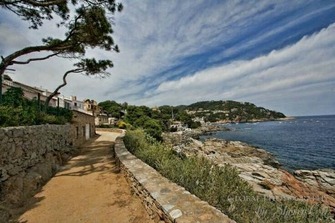 What to do in Estartit? The "camí de ronda" path
The "Camí de Ronda" is a coastal path, of ancient origin, that follows the Costa Brava coastal zone and has Blanes as its starting point and Portbou as its final one. It is 130 kilometers long and was created with the intention of communicating  different populations that are in its way, as well as to its beaches and coves, and to control the smuggling by the Spanish authorities.
In order to protect it and preserve it, the Diputación de Girona has decided to prepare a candidature with the aim that Unesco declares it a world heritage under the definition of cultural landscape. The candidacy will also be covered by a scientific committee formed by biologists, historians and geologists who will be responsible for drafting a report detailing the main points of interest.
This is a unique opportunity also for tourism in the area, as the Camino de Ronda is not only a cultural and natural landscape of the Costa Brava but a tourist resort on the rise that gives value to the territory and its surroundings.